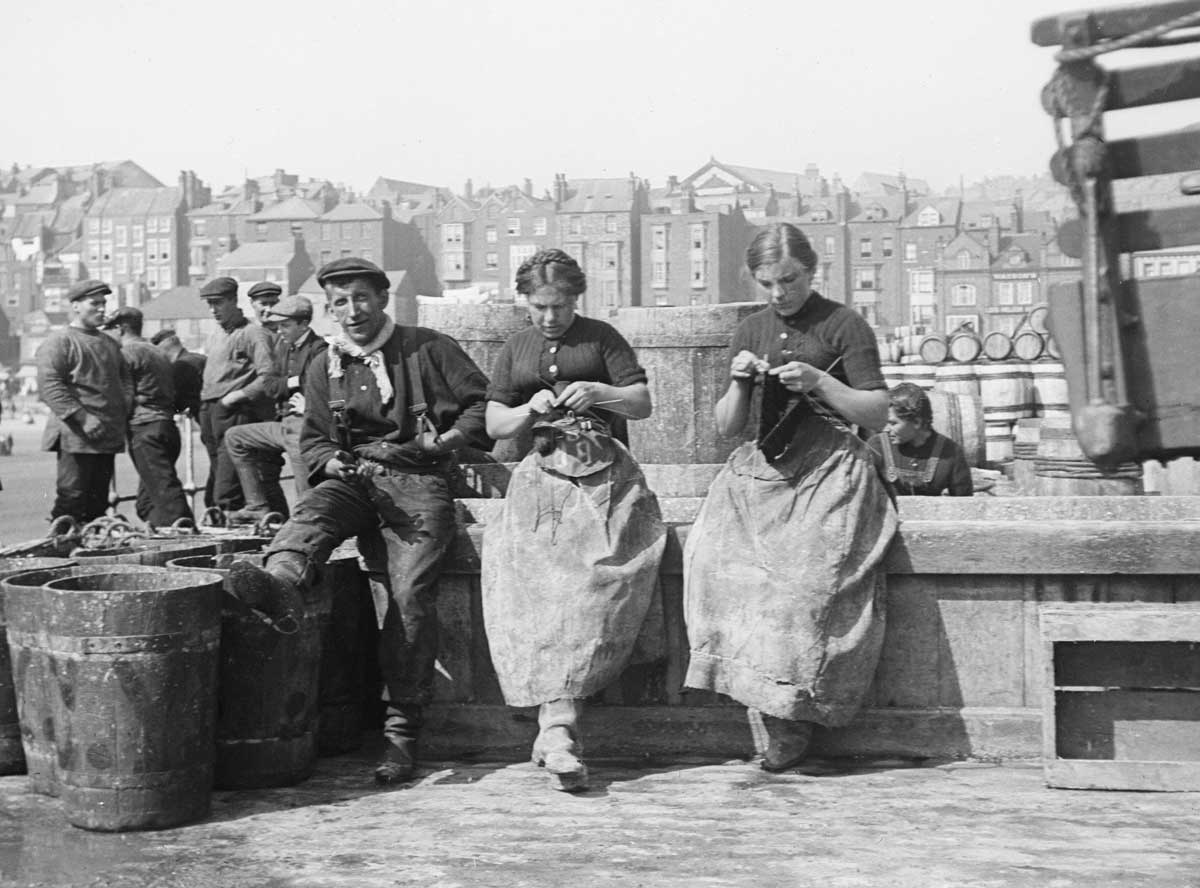 In this historical travelogue, Esther Rutter picks up on a tradition founded by Gladys Thompson, the first historian of the Guernsey fisherman. in the Instructions for Guernseys, Jerseys & Arans (1955), the otherwise patrician Thompson spent an afternoon as a toilet attendant in Filey on the North Yorkshire coast, which meant that she could interview expert Guernsey Knitters. Thompson would try to remember the jumper motifs when the fishermen came by.
When a section is memorized, the rest can be worked out on an old envelope around the corner – often the man wanders away before you've taken it all in, and then has to be chased over the dam or harbor for verification and make sure that the pattern is correct.
Rutter also went in search of Britain's knitting history. Disappointed with her office job, she decides to "knit" across the British Isles. During a twelve-month odyssey, she works on various projects that are inspired by her travels and discovers lost or almost impossible to save knitting traditions. Her projects include a two-tone Dales glove that was once hundreds of thousands knitted by hand in Yorkshire and Westmorland. Less than a dozen of these Fair Isle style gloves (knit with two colors per row) are still available. Rutter made a Fischer-Guernsey for her father, a piece of clothing that had developed into an art form by 1850 that reflected the legacy of both coastal and inland navigation with complex symbolic motifs. Monmouth Caps, a simple wool hat made of thick yarn with large needles, were first manufactured in Monmouth in the 16th century. Manufactured and worn until the 19th century, they represent one of the oldest traditions in British knitting history. Rutter skillfully reveals the story of wool by following certain instructions ("Note" is appropriate – it is an old word for a ball of wool).
Stories about knitting have been written before – Richard Rutt & # 39; s A story of hand knitting (1987) may be the final title – but rarely have they been so engaging or geographically extensive. Rutter travels to Scotland, Wales, England and the Channel Islands. The extent to which the knitting traditions of the different regions differ from one another may have been overestimated in the past. Guernsey motifs that were once considered to belong to certain fishing villages or counties are now widespread in Scotland and England. Nevertheless, there are constellations of patterns that often occur in certain places. Patterns were an oral tradition and in the fishing communities they seem to have moved along the coast when the "gutter girls" (women who gutted herring for a living) migrated between different cities.
A highlight of Rutters trip is Shetland Wool Week. Knitters from all over the world make a pilgrimage to the islands at an annual event in September. Shetland Wool Brokers still sell yarn made from wool that was raised on the islands, dyed in traditional colors and spun there. Rutter lives in Betty Mouats Böd for ten days, a building that once housed active fishermen and was heated by a peat stove. There she learns to dye with claws and draws geometric patterns in her notebook that are inspired by the knitting of the island.
Traditional knitting is often told as a story of motifs with names like ropes, steps, humber stars and nets. in the This golden fleeceHistory and lore are interwoven to show how wool is sewn into British DNA.
This golden fleece: A journey through Britain's knitted history
Esther Rutter
Granta 340pp £ 16.99
Penelope Hemingway is a textile historian. Her book, Your darkest materials, will be released in January 2020.